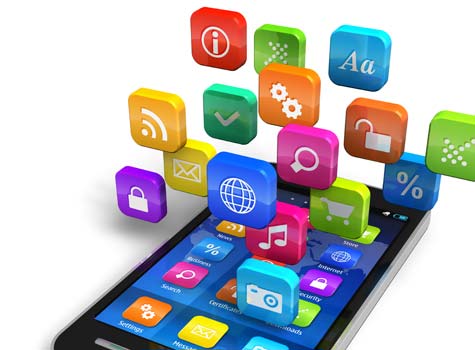 Running a small business is going to take a lot of hard work, especially if you're doing everything on your own. Even if you've got staff to help you handle the everyday tasks that are just part of keeping your small business afloat, the truth is you're still going to need more help than just people can provide.
Technology really does come in handy when you're running a small business. Your smartphone and iPad can be your most valuable tools. If you are a small business owner or manager, consider the five apps below as resources you just can't live without.
1. DropBox
There's no doubt that being able to share files instantly with your employees is useful, and DropBox makes that a possibility. There are few apps that make your life as easy as this simple file-sharing app — which is totally free!
DropBox is basically an Internet storage system you can use to share files between devices. You can sync up the various devices you use in order to have your files perpetually accessible when you're on the go. If you travel a lot and need your files always handy, this app is your new best friend.
2. Dragon Dictation
Don't you hate having to stop what you're doing to write down a message or send yourself a reminder? With Dragon Naturally, you can just dictate your message to yourself, and it will store your memo. The app allows you up to 30 seconds of message, which will make your life a whole lot easier.
The Dragon Naturally app records your voice instantly, and transcribes it into your Notepad or email app. You can send short emails, dictate reminders to yourself, and do all the things that would take your attention off the road or your task at hand.
3. PayPal
If you're running a small business that accepts credit card payments, you should definitely consider the PayPal app. Along with the simple virtual terminal that PayPal provides to business account holders, you'll be able to process payments no matter where you are.
You'll have total control over your PayPal accounts via your smartphone, making it easy for you to accept payments, send payments via your phone, and even swipe credit or debit cards for immediate purchases. It just makes your life as a small business owner a whole lot easier!
4. Evernote
For those who need to write things down in order to remember them, Evernote is an invaluable tool. This web-based document editing service is guaranteed to make your life easier, because you'll always be able to access your documents no matter where you are.
The simple app is more than just a storage service, but you can edit your documents on the go within seconds. All of your information can be safely stored online, and it will be accessible within a few seconds.
Whether you're reminding yourself of the best place to buy Jet repair parts or just to purchase some milk on the way home, this app makes organization a breeze.
5. MiniBooks for FreshBooks
Freshbooks is one of the most-used programs for people who need to create invoices, receipts, and tracking payments, but it's only available on the computer. Thanks to MiniBooks, however, you'll be able to synchronize your iPhone and iPad with your computer, and that makes tracking your payment information so much easier.
The app allows you to send invoices, track billing hours, and do the many other tasks that make FreshBooks such a popular program. You'll easily be able to sync up your device to your computer, and transfer all the information you've added on the go to the program on your hard disk. This app will ensure you're never behind on your important information.