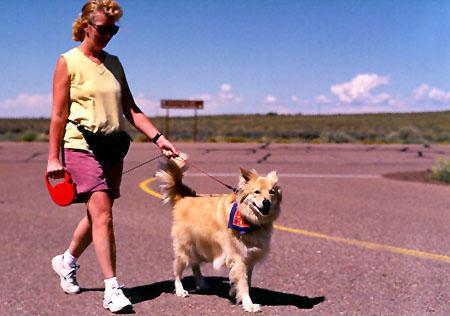 Science and technology have improved lives through uses both wide and varied, that have affected everyone over time. Recent scientific and tech developments have helped pet owners in a variety of ways.
One of the more interesting ways that tech companies are currently working with pets is in helping to improve communication between animals and their owners. One group that's concentrating on this area is NSID: the Nordic Society for Innovation and Discovery.
The No More Woof device
One of the NSID's more interesting innovations is called No More Woof. It's designed to read your dog's brain. While it doesn't do much more currently than read basic thought patterns, it's still able to tell an owner when a dog is thinking certain things, like when it has to pee or eat.
The gadget rests on the dog's head and may soon be publicly available. No More Woof can currently be pre-ordered at prices anywhere between $65 and $1,200. The machine is far from perfect at the moment, but the NSID aims to create far superior models in the future.
Beyond the more entertaining aspects of the pet industry, medicine and health innovations for pets are constantly improving, which is always good news for owners.
The Improvements
A recent study is taking a closer look at Golden Retrievers because the breed has shown a higher-than-usual likelihood of developing cancer. The Morris Animal Foundation study is projected to last roughly 14 years, and with at least 1,000 Goldens enrolled, will be the largest of its kind ever. The researchers hope to make improvements in other areas of canine health as well.
On a less mortal note, the health of cats is also being looked at. While cats can be remarkably healthy for much of their life span, especially if they stay indoors, certain problems persist.
One painful issue for feline companions is tooth-related; it can involve teeth that break too easily. The condition is fairly common among cats and can result in multiple teeth having to be pulled.
The main problem here is that cats not only can't show their human housemates the problem, but they're inclined to hide and mask pain as well. So owners must figure it out or take their kitty to the vet.
Frequent visits to the veterinarian are the best way to combat these issues. X-rays taken at a pet clinic can indicate what we cannot see.
Technology is constantly seeking to improve the health and lives of people and their pets it. Whether you want to have a more meaningful relationship with your dog or your cat needs of medical assistance, we can expect great new developments in the future.
One thing remains constant, though: A pet has to be active to be truly healthy and happy. Making sure to walk the dog and play with the cat is as important as anything future technology might be able to offer. Whether in a group or alone with your pet, no man, pooch, or feline is an island.